I made a terrible mistake last week. I accidentally uploaded my access and secret key of Amazon Web Services (AWS) to Github. These keys have the root authority of my AWS account. I used them with AWS's java SDK to launch EC2 instances. Obviously some crawlers found these keys and they launched a bunch of EC2 instances all over the world with my account.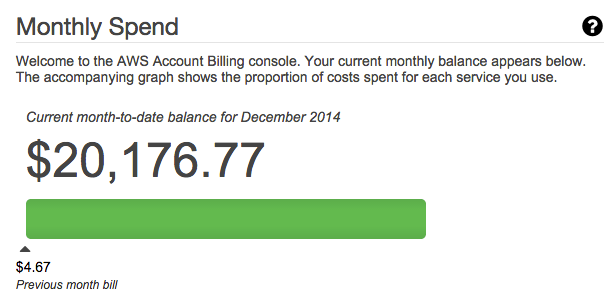 How did I know the keys were leaked?
I didn't know until I saw an email from AWS warned me that my account might be compromised, and my current usage is over $10,000 per day. By the time I saw the mails, they have already laid in my mailbox, which is an email address I do not check very often, for two days. Through the mails I acknowledged that Amazon tried to contact me but my number could not be connected (That is an old number I used a year ago). They have already found the Github repository where I leaked the keys (probably they also have crawlers). After several failed attempts to contact me, Amazon decided to shut down all my services in AWS.
What did I do after?
I followed guide in AWS's email, and deleted those access keys immediately. Then I replied the case that Amazon opened for me in the support page. I left my current number and got a call from them. I explained what happened and asked them how to deal with the $20,000 bill. Fortunetely, they told me that if they confirmed that my account was compromised after they reviewed my case, I will not be charged. Right now I am still waiting for the result. I will update the post when it's over.
[UPDATE - Dec 31, 2014] Amazon sent me a $20,177.81 USD credit to my account to offset the charges due to the compromise, which has covered my complete December bill.
How to prevent?
Well, of course you should never put your keys in public. Moreover, I think you should never use these root credentials. It is better to create IAM users with limited permissions and IP whitelist.